PLUSIMPULS ALBUM
2008, CD & DIGITAL, 9 Tracks

Mögen Sie Jazz-Fusion?
Im Jahr 2008 nahmen wir ein Album mit neun instrumentalen Eigenkompositionen auf.
Mit dabei sind Gitarrist Sebastian Schwarzenberger und Schlagzeuger Bernhard Pricha neben Michael Eichele am E-Bass.

Do you like jazz fusion? In 2008 we recorded an album with nine original instrumental compositions. Guitarist Sebastian Schwarzenberger and drummer Bernhard Pricha will be there alongside Michael Eichele on electric bass.

Das limitierte Album kann hier bestellt werden:
Order limited Album here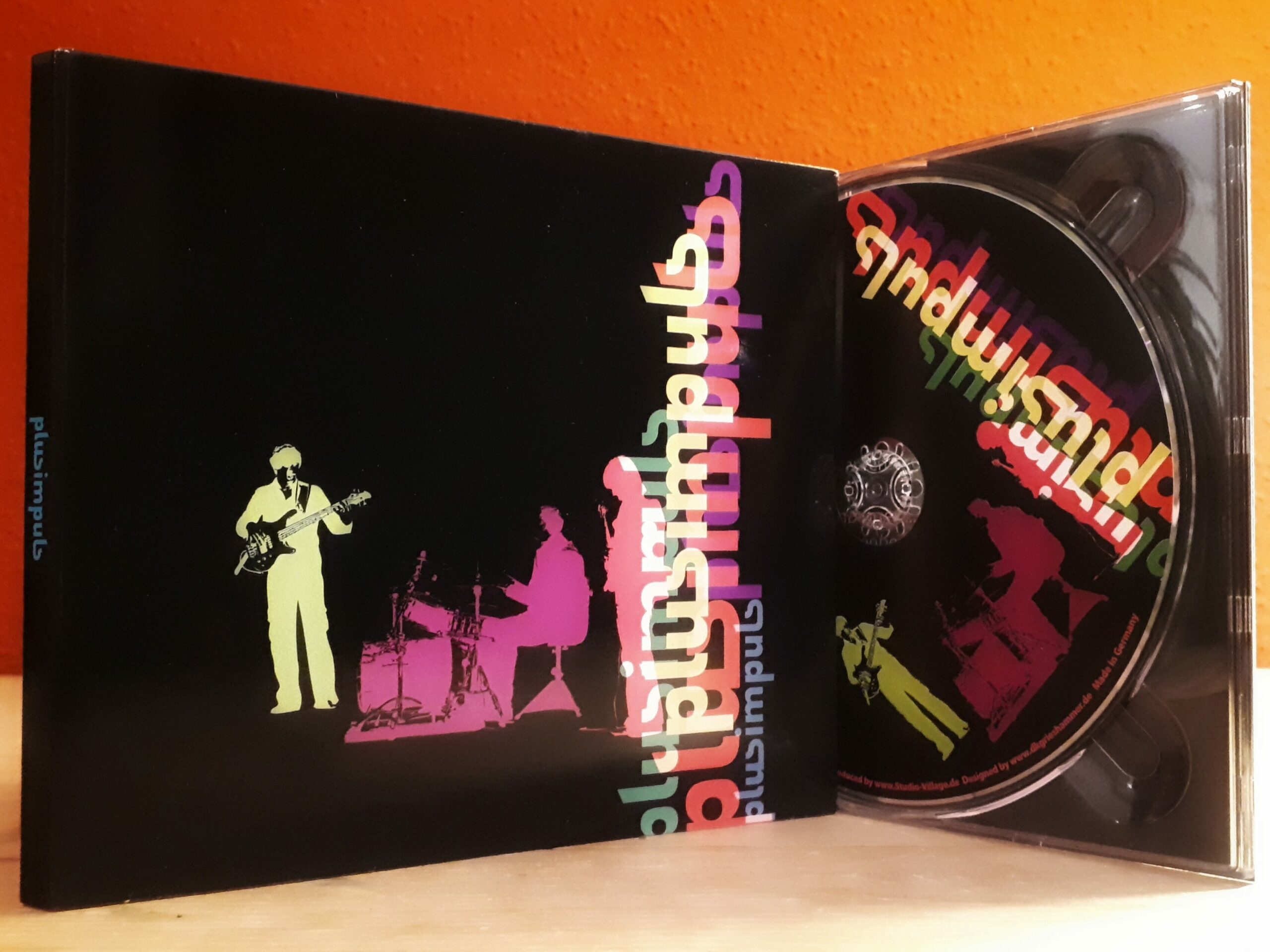 Hier der Titel "Puppetry" als kleine Kostprobe:
Here is the title "Puppetry" as a small sample:
MORE PROJECTS
– Releases, Videos, Konzerte mit verschiedenen Besetzungen –
Ich arbeite gerne mit unterschiedlichen Besetzungen. Dabei sind meine Instrumente Kontrabass, E-Bass, Vocals, Keyboards und Gitarre
– Youtube-Videos & Playlists –
Datenschutzhinweis: Sobald die eingebetteten Videos abgespielt werden, erhält YouTube als externer Anbieter Daten von Ihnen übermittelt.
Notice: As soon as the embedded videos are played, YouTube as an external provider will receive data from you.
STUDIORECORDING-RELEASES
RELEASES
2023 – Schwarzenberger – "Sweet Loving" – [Bassguitar, Backing Vocals]
2022 – Sebastian Schwarzenberger Band – "Love" – [Bassguitar, Mix, Mastering]
2022 – Sebastian Schwarzenberger Band – "Rugged Road" by Robben Ford – [Bassguitar, Mix, Mastering]
2022 – Sebastian Schwarzenberger Band – Guthrie Trapp Cover "Huevos Al Gusto" – [Bassguitar, Mix, Mastering]
2022 – Sebastian Schwarzenberger Band – "Got to be some changes made" – [Bassguitar, Mix, Mastering]
2022 – WHALE CITY – Forever – [Keyboards, Bassguitar, Guitars]
2022 – WHALE CITY – Breathe Again – [Keyboards, Bassguitar]
2021 – WHALE CITY – Youtube: Sunset Jam – [Keyboards, Bassguitar, Backing Vocals]
2021 – Holger A. Jung – Driving Home For Christmas – [Doublebass]
2021 – WHALE CITY – Aquiver – [Keyboards, Bassguitar]
2021 – WHALE CITY – Under Blue Skies – [Keyboards, Bassguitar, Backing Vocals]
2021 – WHALE CITY – Moments – [Keyboards, Bassguitar, Backing Vocals]
2021 – WHALE CITY – Far Away – [Bassguitar]
2020 – WHALE CITY – Someone Elses Eyes – [Bassguitar, Keyboards, Guitar, Backing Vocals]
2020 – Tiny Sound – Where Are You – [Bassguitar]
2020 – Holger A. Jung – Christ Jesus Lay In Death Strong Bands ( Martin Luther ) – [Bassguitar]
2020 – Holger A. Jung – To Jordan Came Our Lord ( Martin Luther ) – [Doublebass]
2019 – WHALE CITY – There She Goes – [Bassguitar, Keyboards, Backing Vocals]
2019 – WHALE CITY – Daylight – [Keyboards, Backing Vocals]
2018 – WHALE CITY – Echo Of Joy – [Bassguitar, Keyboards, Backing Vocals]
2018 – Koshi – An und für mich – [Bassguitar, Doublebass]
2016 – Room77 – Burning Blue – [Bassguitar, Keyboards, Backing Vocals, Editing, Mix]
2014 – C.S.T. and friends – On Tiptoe – [Bassguitar, Doublebass]
2013 – Willi Mauch Musik – Stereoplay – [Doublebass, BackingVocals]
2012 – Solly – Oak Tree Sessions – [Doublebass, Recording, Editing, Mix, Mastering]
2012 – Grace & Taylor Inc. – [Doublebass, JazzGuitar]
2011 – Sebastian Schwarzenberger Band – Living For Tomorrow – [Bassguitar, Backing Vocals]
2011 – White – Unplugged – [Doublebass, Acousticbass, Mastering]
2009 – C.S.T. – Statement – [Bassguitar, Doublebass]
2008 – Die wilden Hühner und das Leben (Soundtrack) – [Bassguitar]
2008 – Plusimpuls – [Bassguitar, Recording, Editing, Mix, Production]
2005 – C.S.T. – Originality – [Bassguitar, Recording, Editing, Mix, Mastering]
2004 – C.S.Q. – Live im Village – [Bassguitar, Mix, Mastering]
2003 – Hsieh Wan Lin & Southfunk – [Bassguitar, Doublebass, Guitars]